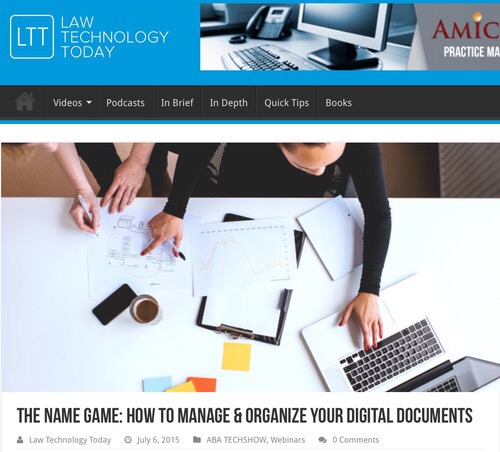 Since I was the Chair of the 2015 ABA TECHSHOW Planning Board (which took place on April 16-18, 2015), I'm a little biased when it comes to how great the educational sessions were. So good, in fact, that the Legal Technology Resource Center (LTRC) picked up several sessions for the "ABA TECHSHOW Summer Series" of webinars.
The first is "The Name Game: How to Manage & Organize Your Digital Documents" that will take place on Thursday, July 16, 2015 from 1:00pm – 2:30pm Eastern. Registration is available here and is only $50 for ABA Members (only $75 if you're not a member).
The presenters are Nancy Duhon of Duhon Technology Solutions LLC and Steve Best of Affinity Consulting and who also happens to be the Chair of the 2016 ABA TECHSHOW Planning Board.
The material covered in this webinar will apply to any lawyer, regardless of whether you're using a Mac or Windows computer. But I fin that most Mac-using lawyers don't have a formal legal document management system and so this webinar will be extremely relevant and helpful.
I encourage you to read more and register for "The Name Game: How to Manage & Organize Your Digital Documents."