I've been negligent to post about my recent speaking engagements on Macs & iPads, but it's only because I've been so busy presenting! And there's more on the way!
First, I'm indebted to my good friend Chad Burton who runs the virtual law firm of Burton Law down in Dayton, Ohio.
Chad serves on the Law & Tech Committee of the Dayton Bar and invited me down to speak at their event last Friday: iPad Apps for Lawyers. Chad and I had a great time speaking to a wonderful group at the Bar offices in downtown Dayton.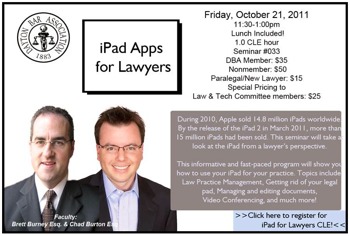 Immediately following our appearance at the Dayton Bar, Chad and I zoomed over to the University of Dayton School of Law to give the same presentation to a group of law professors. We were there at the invitation of Kelly Henrici, the Executive Director of the Program in Law and Technology at the school.
I was thrilled to be back at UD – it's been 11 years since I graduated from the law school there!
Then on Saturday, Oct. 22, I flew in to Denver to present at the National Solo & Small Firm Conference being held in conjunction with the ABA GPSolo 2011 Fall Meeting.
My friend Jeff Allen had invited me to speak with him on Macs in the Law Office, and I specifically addressed cloud computing services for Mac-using lawyers and running Windows on a Mac.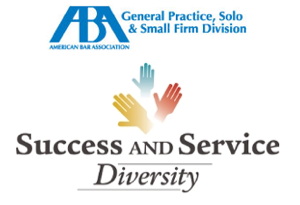 I was elated to speak with Jeff as I consider him one of the "godfathers" of Mac-using lawyers. Jeff was using Macs in his law practice back in the late-80's and early-90's, loooooooong before anyone else even considered doing so. Jeff also writes the excellent MacNotes column for the GPSolo eReport.
And earlier this week, I had the great privilege of speaking to a large group of lawyers and legal administrators at the Greater Cincinnati Chapter of the Association of Legal Administrators about Soaring with Tablets and Floating on Clouds: A look at the latest technology trends in the practice of law.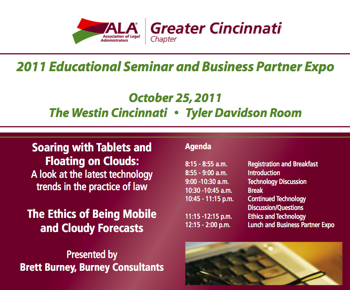 I was in Cincinnati at the invitation of my friend Mary Lynn Wagner, the Director of Information Resources at Keating Muething & Klekamp, PLL. The facilities were great, the vendors gave away some excellent prizes (including an iPad!), and the experience was truly wonderful.
So thank you to all these folks for the past several speaking engagements. And stay tuned, as I have more announcements coming very soon.