Two really nice deals today:
First, Lit Software has put their "Ultimate Litigation Bundle" on sale which includes all three of their fantastic apps: TrialPad, TranscriptPad, and DocReviewPad. All three apps on their own cost $309.97, but limited-time sale price is $249.00 which saves you $60.97. It's a rare sale and completely worth the investment if you have an iPad.
Second, while we all know Readdle for their iOS apps like PDF Expert, Documents 5 (my review), Scanner Pro (my review), PDF Converter, and more, they have also been developing PDF Expert for the Mac which was recently updated. I've been watching and using PDF Expert for several months. And while I think there are still some tweaks that need to be made for lawyers, it is quickly becoming a strong competitor to PDFpen Pro and Adobe Acrobat. It's definitely worth having on your Mac if nothing else for the "Reduce File Size" feature that's prominent in the File menu with an adjustable slider (see screenshot below). I LOVE that!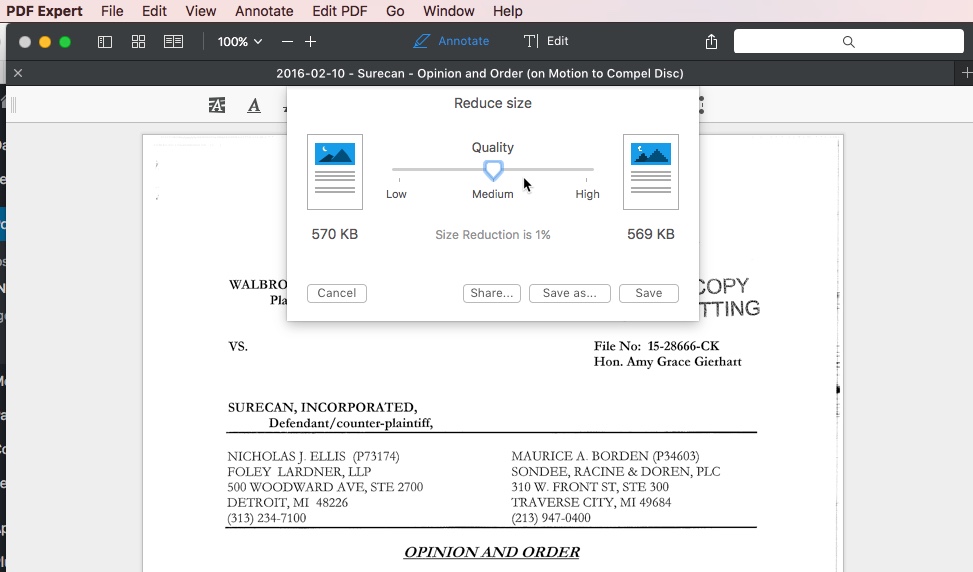 Readdle sells PDF Expert for Mac for $59.99. That's an amazing price and extremely competitive with Adobe Acrobat.
But for the next few days, MacBundler has it for 50% OFF! You can purchase PDF Expert for Mac through my affiliate link at MacBundler, or just visit www.macbundler.com on your own.
I recommend picking up PDF Expert for Mac just so you have it in your toolbox for when you need a little more PDF power.