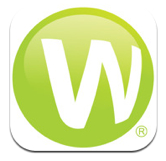 I'm thrilled to have Paul Unger from the Affinity Consulting Group review the Worldox iPad App. For those that don't know, Worldox is one of the most respected professional document management platforms available today, with numerous installations in law firms around the world. And while Worldox does not natively run in the Mac OS, the company recognized the potential and usability of the iPad.
To learn about Worldox and why your firm needs a professional document management system, I highly recommend John Heckman's whitepaper hosted by Worldox: "Why Document Management?" (PDF).
If you use Worldox for document management, and you are one of the millions of people who have an iPad, the Worldox iPad App may bring you several steps closer to achieving a paperless law office. I've been using the app on my iPad now for nearly six months, and here are my observations.
The beauty behind the iPad is its instant-on capability and instant connectivity to the internet. To use Worldox in this masterful iPad environment is refreshingly easy. I've been using Windows-based tablet computers for over six years, but the main obstacles to making those tablet features truly functional were boot-up time, instant internet connectivity, and weight/portability. Worldox quickly realized that Apple solved all those issues with the iPad and they developed a fantastic app that gives users access to all Worldox-managed documents from the iPad.
Installation: I went to the App Store from my iPad, searched for "Worldox". I found the app, downloaded and installed it in less than 60 seconds. At that point, all that I needed was (1) the URL (the Worldox/Web Mobile server address); (2) the document server name and password, and (3) my user ID and password. Consistent with most iPad apps, logging in was easier and faster than on my PC.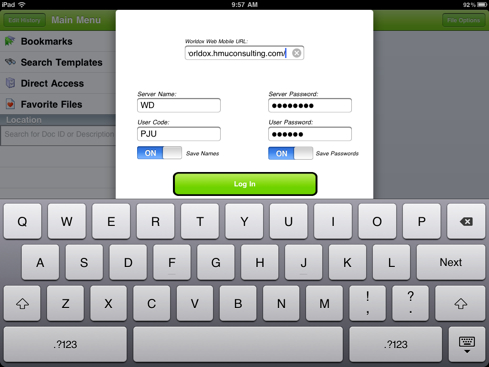 Logging in and Finding/Accessing Files was a breeze. In fact, to log in, and get me to all the documents in a matter took 10 seconds when I was connected via my WiFi internet at home, and exactly 15 seconds when using my 3G iPhone HotSpot. All my Bookmarks, Search Templates, Favorite Files were available to me. That was a huge plus for me. I create Bookmarks to all of my very active matters, so for me to get to all my documents in the "Jones" matter, it just required that I tapped "Bookmarks" and then "Jones" with my fingertip, and then Worldox delivered a list of all my documents within 2 seconds.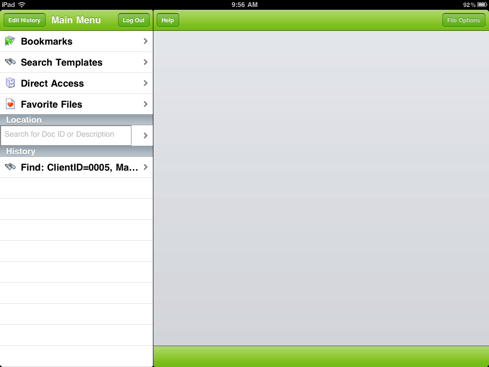 Reviewing/Reading/Emailing Files was consistent with reading anything on the iPad … delightful. Yes, I said delightful! ☺ I highlighted the desired document and then tapped the Preview button. I can't really explain why reading documents, books, etc. is so easy on the iPad. It just is. You just need to experience it to understand. To email the document, I tapped File Options and then Email Document. This was just as fast, or faster, than emailing documents from the actual program on my PC.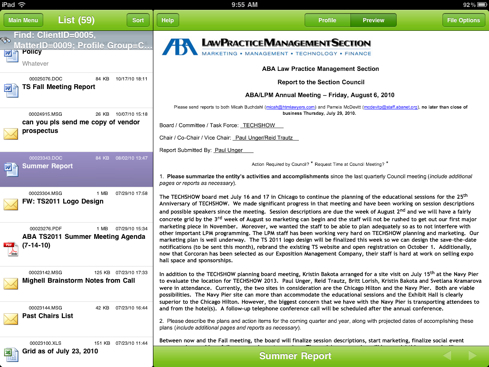 Editing documents was easy, but this is where the iPad in general starts to cross the line of being a little more difficult than a PC (especially if doing a lot of editing) because the iPad was primarily designed as a reading/reviewing device (also called a "consuming device"). Editing any document on the iPad requires an editing app like DocsToGo, Quickoffice or Pages. The good news is that the Worldox iPad App now allows you to check the document out to DocsToGo. To check the changed document back in to Worldox, in the lower left-hand corner of DocsToGo, select Save In > Worldox and then you have the option to Upload or Check-In. This is a huge improvement over the beta version of the iPad app, which required a more cumbersome process.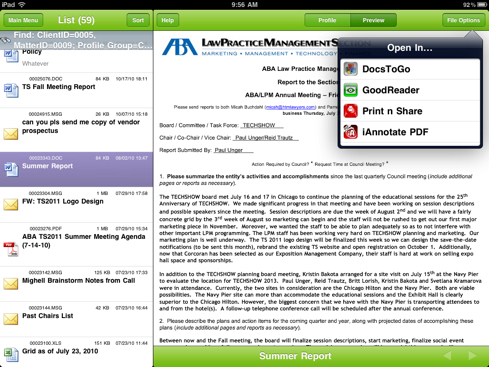 Side Note: If you need clients to fill and sign PDF forms that you have saved in Worldox, with an app like PDF Expert, iAnnotate, or SignMyPad, you can open the form in one of those apps directly from Worldox and have the client fill and sign the document. (See "Legal Workflow: Sign a Document on your iPad Using iAnnotate" for a more in-depth discussion.)
Requirements: The Worldox iPad App does require that you have Worldox/Web Mobile (an add-on that gives users access to Worldox via the internet), OR for $25 per user/per month, Worldox will host Worldox/Web Mobile for you. Unless you have a lot of users, I think the hosted solution at $25 per user/per month is a great option. If you have a lot of users, you may consider buying Worldox Web Mobile at a one-time cost of $995 + $49 user. One very nice note about the number of users and pricing: If your firm has 50 users, but only 5 need the mobile access, you only have to pay for 5 … not 50. You only pay for what you need.
Conclusion: For reviewing/reading and emailing documents, the Worldox Mobile app for the iPad is golden. For editing, it is a bit more work, but still extremely easy. It is a great tool to add to your paperless law office. If you already own Worldox and an iPad, and if you need portability, for the cost of the app and Worldox/Web Mobile, I would recommend it. If you are looking for a "business" excuse to buy an iPad … this may be it ;-).

About the Author: Paul Unger is a lawyer and partner at Affinity Consulting, a national legal IT provider. He was Chair of ABA TECHSHOW 2011 and is based in Affinity's Ohio office. Email him at punger@affinityconsulting.com.