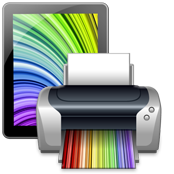 I use the iPad to read a lot of news, websites, e-mail and documents. There are many occasions when I want to convert what I'm reading into a PDF so I can annotate and preserve the information. And I want to save it into Dropbox since that's my "virtual file cabinet."
Josh Barrett over on the most-excellent Tablet Legal blog has a couple of great posts on creating PDFs from your iPad, but he has a couple of reservations about the quality of the PDFs from the methods he outlines. I'm intrigued by the Save2PDF app, but I'd like to see some improvements before I commit to it.
Everyone's been talking about AirPrint that showed up in the iOS 4.2 upgrade, but there doesn't seem to be many people that have the compatible printers necessary to make it work out of the box. There are some workarounds but I wanted something simple and seamless.
Many people have ALSO been talking about Printopia, a new offering from the folks at Ecamm Network. I've been a big fan of Ecamm's PhoneView which I don't use all that often, but every once in a while it's an awesome way to dig around the guts of my iPhone.
To me, Printopia is closer to the way that AirPrint should work because it's just so simple, although there are a couple of caveats (there always are when a new feature like AirPrint comes out).
First, Printopia is NOT an iPhone or iPad app – it actually installs on a Mac. Preferably one that is running on the same local wireless network that your iPhone and iPad are connected to. Printopia installs as a System Preferences pane and makes no other changes to your Mac OS.
Printopia sees all of the printers that are connected or shared to your Mac, and then subsequently shares them to your iPhone or iPad over Bonjour. If you don't see a printer listed, you can add a printer as you normally would under your "Print & Fax" System Preferences.
This is a drop-dead easy way to print from your iPad to any printer connected to your Mac. The caveats are that
your Mac has to be on and running;
your Mac should be running the latest version of Max OS X (although Printopia works on 10.5);
your iOS device must be updated to 4.2;
and both devices must be on the same Wi-Fi network.
But in addition to sharing printers, Printopia also adds two virtual printers called "Send to Mac" and "Send to Dropbox on Mac." Both of these options show up in the "Print" menu now available on your iPad in addition to the traditional printers shared by your Mac.

The "Send to Mac" option sends a PDF directly to your Mac, stored in your Documents/Printopia folder.
The "Send to Dropbox on Mac" option sends a PDF to your Dropbox account stored in the "Printopia" folder. The Dropbox option will only work if your Mac has Dropbox installed and running.
Now when I'm on a web page that I want to save, I can "Print" the page via the AirPrint option, select the "Save to Dropbox on Mac" virtual printer, and the PDF is sent to my Dropbox folder.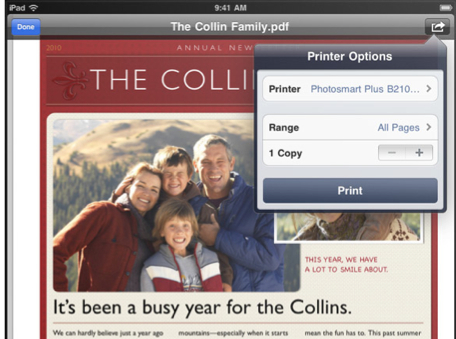 Next I can switch over to iAnnotate PDF or GoodReader to connect to my Dropbox folder and open the file so I can annotate, highlight, and scribble any notes for my personal use.
Now, as I mentioned, your Mac has to be up and running for Printopia to work, and both the Mac and your iPad have to be connected to the same Wi-Fi network. That shouldn't be a problem if you're in the office, or at home connected to Wi-Fi. But this will work just fine "the field" if you use a MiFi or similar setup (I personally use a Verizon USB modem with the Cradlepoint PSH300). As long as your Mac laptop and iPad are connected to the same wireless network, Printopia will give you the power to save a PDF directly to your Mac or Dropbox account.
The only item on my wish-list would be that I could customize the Dropbox folder location. I'm sure there are limitations on the AirPrint side with the iPad (that would be wonderful to pick a folder from the AirPrint menu!), but I'd like to maybe set a different folder for all Dropbox activity. I am confident that more good stuff is coming from Printopia because a) it's only the first version and b) I know the folks from Ecamm Networks will improve the product based on what they've done with PhoneView and other products.
Printopia is a no-brainer if you need this functionality. The software is only $10, but you can use the application for 7 days without penalty. So download the trial and give it a whirl – I had it working within about two minutes so it won't take a lot of your time.
And don't forget to sign up for Dropbox since 2GB is totally and completely free (use my referral link and you'll get 250MB extra for free!).