Last month, BGR posted about my favorite wireless keyboard: the Logitech Wireless Solar Keyboard K750.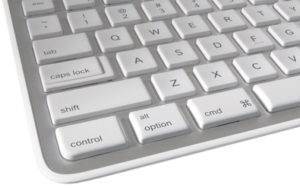 I actually use the black Logitech K750 for my Windows machine in my office, but there is a lovely silver version specifically for Mac … complete with the Alt/Option & Command keys.
I've been using the wireless Logitech Solar K750 for close to 6 years and it has been fantastic. AND I'VE NEVER HAD TO REPLACE THE BATTERIES!!!!
Two "solar" panels above the Function keys work with ANY light source. I've never used it outside, so the lamp and overhead light in my office (and presumably the light from my multiple monitors) keep the thing running all the time.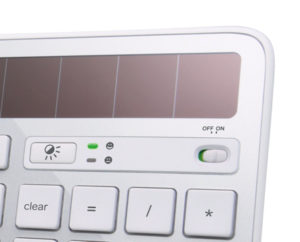 You can download Logitech's "Solar App" if you want to track the battery life, but I rarely open it. A little sunshine button on the keyboard launches the app.
There's also an on-off switch on the keyboard if you need to preserve battery life (I never turn it off).
The Logitech Solar K750 is a full-size keyboard, complete with a number pad on the right so make sure you have enough room on your desk. This is better than the OLD wireless Apple keyboard that came with iMacs. The rounded backs on these OLD wireless Apple keyboards were round and held two AA batteries, WHICH I HAD TO REPLACE SO OFTEN!!!!

The NEW wireless Apple keyboard (what Apple calls the "Magic Keyboard") released in October 2015 does NOT use disposable batteries, but rather an internal rechargeable battery that is charged via a USB-to-Lightning cable.

Apple does sell a full-size keyboard WITH a numeric keypad but it is wired.
The Logitech Wireless Solar Keyboard K750 (black/Windows or silver/Mac) NEVER has to be re-charged OR have its disposable batteries replaced.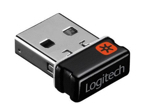 This is NOT a Bluetooth keyboard, but comes with a teeny-tiny USB receiver that Logitech calls the Unifying Receiver. And while you must give up a USB slot, the Unifying Receiver is kinda amazing – it can connect up to 6 devices on one receiver. I actually use it to connect BOTH the Solar Keyboard AND the Logitech Anywhere Mouse MX and it works great.
A couple of other interesting Logitech keyboards:
(Post contains affiliate links to Amazon.com. Please feel free to visit Amazon separately.)