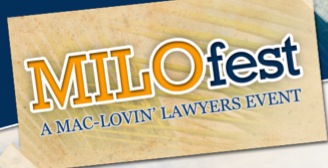 If you're a Mac-using lawyer, it'll be a crying shame if you miss MILOfest.
MILOfest is a gathering of Mac-lovin' lawyers sponsored by the Macs in Law Offices Google Groups that will be held Nov. 11-13, 2010 down in Orlando, FL. All of the details are on www.milofest.com.
MILOfest is possible because of the generous blood, sweat and tears from Victor Medina,  the managing partner of Medina Law Group.
This is the second year of MILOfest. Last year, Victor orchestrated an incredible couple of days worth of presentations and programming that focused specifically on lawyers using Macs in their practice. Everyone walked away with more information than they could handle, and more importantly, a renewed confidence in their computer operating system of choice.
This year is bigger and better. Victor has lined up a stellar cast of speakers including THE Mac Lawyer – Ben Stevens, Finis Price, Jack Newton, Larry Port, Mark Metzger, Ron Elkins, and more. I have the honor of talking about BusyCal at MILOfest.
It's not too late to sign up to attend, and by all means get the word out to every Mac-using lawyer that you know. I will be posting updates to this blog during the conference, but that will be a pitiful substitute for all of the knowledge that gets shared in person at the conference.
Update #1: I forgot to mention that Rocket Matter has generously sponsored CLE accreditation for 17 states at MILOfest. So if you're hurtin' for a few more hours before the end of the year, this would be a much-less-boring way to fill your quota.
Update #2: Posted a report on Day 1 of MILOfest on Nov. 12, 2010 at http://www.macsinlaw.com/day-1-milofest2010/