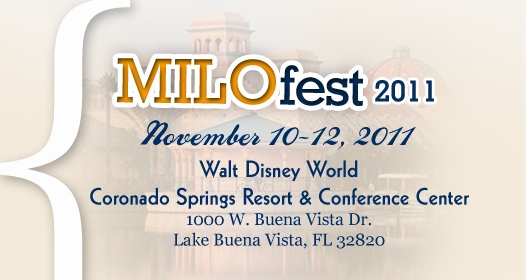 I can't believe that MILOfest has crept up so quickly this year, but it's next week and I am so excited.
This will be the third MILOfest spearheaded by the indomitable Victor Medina who runs a full-time law practice and STILL manages to host one of the most engaging and enjoyable legal technology conferences of the year.
MILOfest is the outcrop-conference from the Macs in Law Offices (MILO) e-mail listserv on Google Groups. Victor launched MILOfest in 2009, and I've had the joy of watching the conference grow every year – both in attendee numbers as well as sponsors.
On the sponsor side, Clio, Rocket Matter, and Marketcircle (Daylite) have been with Victor since the first MILOfest, and I believe they are all returning this year.
In addition, this year I know that more sponsors will be at MILOfest showing their products and talking with attendees. These include Clarity Legal (John Callis is speaking too), Deskspace Attorney (who will be publicly launching at MILOfest), and TrialPad (who will be demo'ing their TrialPad app).
On the education side, Victor has put together a fantastic agenda, and I am honored and thrilled to be participating again. I'll be giving a ton of tips on both of my sessions: "MS Word Tips, Tricks & Tweaks" and "Mail.app Ninja Tips."
It's admittedly getting a little late to sign up for MILOfest, but if you use a Mac, and there is ANY way you can get down to Orlando for even one of the three days next week, do NOT miss the opportunity – I guarantee that you will walk away with a new tip for your practice, and you'll have a renewed vigor for how to get the most out of your Mac.
Here are more details from Victor on MILOfest: http://milofest.com/milofest-2011-announcement