Last week during my "iPractice on an iPad" session at the Ohio State Bar Association's Legal Technology Conference, I was proclaiming how the iPad can be useful to pull up information from the web when you're out of the office.
One gentleman asked about certain web sites that require you to use Internet Explorer or Firefox to navigate their site. His specific example was the Ohio Bureau of Worker's Compensation at www.ohiobwc.com. He regularly visited the site to access claim documents for clients, which were usually PDF files. When you visit this site from Safari on a Mac, or Mobile Safari on an iPhone or iPad, you get a message that says "your Internet browser is not compatible with this site."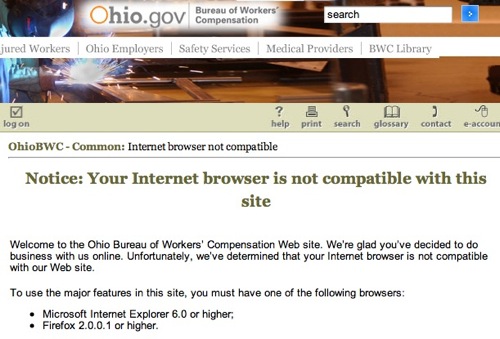 It's hard to tell how common this is, but it's extremely frustrating when you run your practice from a Mac. I see it commonly on sites from government-type agencies (e.g. municipal sites, law enforcement, court sites, etc.).
The reasons for requiring a certain browser can vary, but if you've ever developed a website, you know there are some annoying differences between how various web browsers render HTML. Sometimes it's just easier to standardize on one browser type and require visitors to conform. And if you're going to do that, you go for the browser that has the largest market share, which means that Internet Explorer (running on Windows) is going to win out.
On a Mac…
On a Mac, this means Safari won't let you into those sites and you'll get a messages similar to above. Fortunately, this can be easily fixed by either changing the "User Agent" in Safari's developer menu (thereby "spoofing" the website into thinking Safari is acting like IE), or simply downloading Firefox or Chrome for the Mac.
If you really, REALLY need IE on the Mac, I am fond of running CrossOver Mac that allows me to run the single instance of IE. In other words, I don't fire up Parallels or VMware Fusion just to run IE.
On an iPad or iPhone…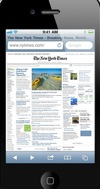 On the iPad and iPhone, we're stuck by default with Mobile Safari which is actually an incredible web browser and truly revolutionized mobile web browsing (anyone remember what is was like to surf the Web on a Palm Treo??).
Thankfully we DO have a few other choices for web browsing on iOS devices with the help of the App store.

One of web browsing apps I regularly turn to comes from our friends at Readdle. They offer a free browser for the iPad called Terra. It's a very simple, streamlined browser, but it does offer tabs and impressive speed. It's not as full featured as what you get in Mobile Safari, but I find myself switching over to it now all the time (in fact, when a link opens in Mobile Safari, you can simply replace the "http" in the address bar with "terra" and the page will open in the Terra browser).
There's not a lot of settings available in Terra, but one important one is the "Identify As" feature. Here, you can "trick" a website into thinking that Mobile Safari is actually a desktop version of IE 6 or Firefox 3.6. You can change the option at any time, but this works flawlessly – the website you're visiting doesn't know any different.

There are several other iOS alternate web browsers in the App store but I keep coming back to Atomic Web Browser (for both iPhone & iPad). There's a free Lite version, but I recommend paying the 99¢ for the full version that includes several additional features – most importantly for this post the ability to "Identify Browser As" several different desktop browsers including IE 6, 7, 8 or Firefox 3.
The gentleman that asked the question about visiting the Ohio BWC site actually didn't have an iPad, but he did use an iPhone. I had him download the Atomic Web Browser for iPhone and change the "Identify Browser As" to set it as Internet Explorer 6. He was able to log on, put in a client's claim number, and download the PDFs he needed no problem. From there, he could e-mail the PDF, download it, or just read it on his iPhone.
Using another browser on your iPhone or iPad…
Why use another browser on your iPhone or iPad? You don't have to, of course. There's no way to change your default browser from Mobile Safari. But most of the alternate browsers are only 99¢ so I recommend downloading one (like the Atomic Web Browser) just to have on your iOS device in case you need it.
What are the advantages of an alternate iOS web browser?
Tabs – I live by tabbed browsing on my Macs, and I've sorely missed it on my iPhone and iPad. I can't stand the fact that when you create a new page in Mobile Safari that it goes to that black screen where you select a different window. Terra, Atomic Browser, and many other browsers offer tabs. I also like the fact that I can have a new tab open in the BACKGROUND, which means I can continue to read the current page while another page loads up in the background.
Full Screen – we have limited space on our iOS devices, so why not maximize it? Most third-party browsers offer a full screen mode so that the web page content takes up the entire screen.
Ad block, multi-touch options, color themes, etc.