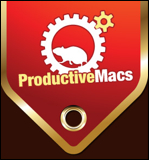 Today (May 31, 2011) is the last day to take advantage of the fantastic software bundle at ProductiveMacs.com. The name alone should clue you in that this is not your typical software bundle with games and filler – this one has serious applications that are beneficial to any Mac-using lawyer.
First, you have TextExpander, which is one of the must-have utilities I featured in my TechnoFeature: Nine Mac Utilities That Will Boost Your Law Firm's Productivity. On the simple end, you can use TextExpander to fill in your e-mail signatures; on the intricate end, TextExpander can become a full-fledged document generation tool. TextExpander costs $35 on its own.
Next, Path Finder is an incredibly powerful add-on for Finder. I prefer using TotalFinder for its simplicity, but Path Finder offers a wealth of features such as dual panes, the "drop stack," and an integrated Stuffit engine. Path Finder costs $40 on its own.
Next, HoudahSpot is an extremely powerful search tool that makes Spotlight look wimpy. If you find yourself wishing Spotlight could offer more options for searching, then HoudahSpot could be your answer. HoudahSpot costs $30 on its own.
Next, Keyboard Maestro is a powerful tool that lets you program your own macros to control applications, windows, menus, open documents and much more. There are many ways to accomplish these tasks on a Mac, but I know many people that streamline their computing tasks with Keyboard Maestro. It costs $36 on its own.
Lastly, Mail Act-On has become my absolute favorite Mail add-on from Indev Software (who also offer MailTags). Mail Act-On lets you file e-mail messages into folders with a few keystrokes, and gives you more options for creating Mail rules. I can't really imagine ever going back to the drag-n-drop days of moving e-mail messages around. Mail Act-On costs $25 on its own.
All of these incredible apps (plus three more) are all available for ONLY $29.99!! That's an incredible price not only because it's an incredible deal, but most software bundles like this clock in at $50!
Needless to say, I highly recommend you visiting ProductiveMacs.com and picking up this incredible bundle today before the deal ends AT THE END OF THE DAY! I guarantee that you'll use more than one of these apps and so the deal pays for itself. I recommend starting with Mail Act-On or TextExpander and go from there.
Disclaimer: If you purchase the bundle by clicking my personalized link, I will be reimbursed for the bundle that I purchased. However, if you prefer to visit the site on your own, please feel free to visit www.productivemacs.com. Either way, buy the bundle and enjoy some great software!