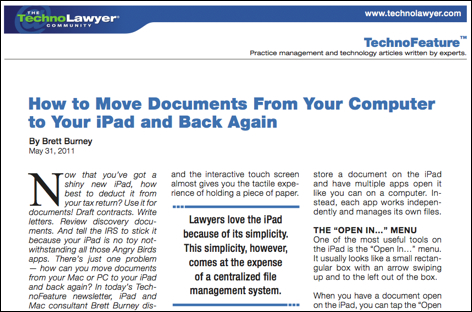 The fine folks at TechnoLawyer allowed me to write a TechnoFeature entitled "How to Move Documents From Your Computer to Your iPad and Back Again" where I explain the four methods I usually recommend to lawyers who ask "how do I get my documents on to my iPad?":
Method #1: E-mailing documents to the iPad
Method #2: Sync documents through iTunes
Method #3: Ad-hoc Wi-Fi Approaches
Method #4: Dropbox
Spoiler Alert: I recommend Dropbox, but the article details each method and explains WHY I believe the Dropbox is the best method for getting documents on to the iPad and keeping them organized.
If you don't already subscribe to the FREE newsletters from TechnoLawyer, you should do that now.
TechnoLawyer, however, is very generous in allowing me to provide a PDF reprint of my article, and I've also posted it on DocsToc below.

How to Move Documents From Your Computer to Your iPad and Back Again –