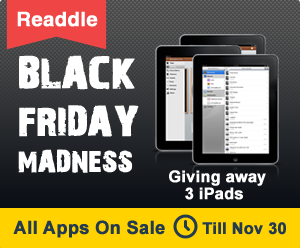 I'm a big fan of Readdle apps since they're fantastic for viewing and managing documents on iOS devices. Their namesake app, ReaddleDocs, is a must-have for every lawyer with an iPhone or iPad.
None of the Readdle apps have been very expensive, but from now until Nov. 30, they're slashing prices to the point where you can pick up all their goodies for pennies during their Black Friday Madness Sale.
For the iPhone, you must get:
For the iPad, you must get:
You can find a ton of other iPhone & iPad apps on sale from the comprehensive list on MacStories.