I have the privilege of comparing iPad apps for TechnoLawyer every month and picking the best one for lawyers!
TechnoLawyer has some of the best tech-related newsletters aimed at lawyers. It's completely FREE to subscribe and the information is invaluable. Plus, TechnoLawyer does one of the best jobs of covering how Macs and iPads are being used in the practice of law.
I know this will be disappointing, but I can't post my full articles here on the blog – you'll need to visit TechnoLawyer.com and sign up for the SmallLaw Newsletter which is where most of my columns are published. Don't miss another one of my iPad app columns!
Here are the topics I've covered so far this year:
January 2012: The Best iPad Stylus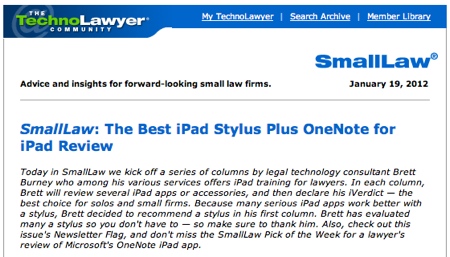 In my first column I wanted to discuss the best stylus for the iPad since I knew that several of the subsequent columns were going to work better with a stylus (e.g. handwriting apps, signature apps, etc.). The styli I review are:
February 2012: The Best iPad Handwriting App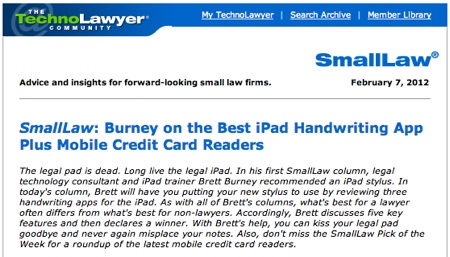 My second column discussed the best app for handwriting notes. I wanted to duplicate the experience of writing with a ball point pen on a yellow legal pad. Here are the iPad handwriting apps I review:
March 2012: The Best iPad Signature App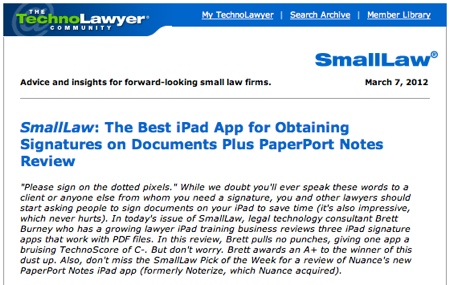 Following the best handwriting app, I was excited to look at the best iPad app for obtaining signatures on PDF documents. You could use these apps to sign a document yourself, or it could be a way to have your client sign a form. Here are the iPad signature apps I review:
April 2012: The Best iPad App for Annotating Documents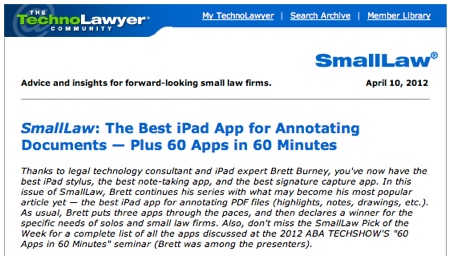 Last month I determined the best iPad app for highlighting and marking up PDF files, similar to how we annotate a paper printout. Instead of hitting the print button, you can save a document as a PDF and then use these apps to highlight text. Here are the iPad annotation apps I review:
May 2012: The Best Trial Presentation App for the iPad
This hasn't been published yet but I'm working on it! This column will actually not appear in the SmallLaw Newsletter but will be published in the LitigationWorld Newsletter. So as long as you're visiting TechnoLawyer.com, make sure you sign up for both the SmallLaw and LitigationWorld Newsletters!
Here are some of the topics coming up later this year:
The Best App for Creating PDF Forms on the iPad
The Best App for Typing Notes on the iPad
The Best Word Processing App on the iPad
The Best Calendar App on the iPad
The Best Task Manager Apps for the iPad
and much more!
All of the TechnoLawyers Newsletters are FREE! So sign up now so you don't miss another iPad column through the rest of the year!