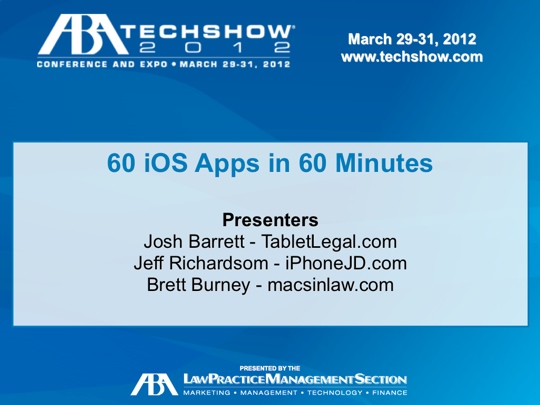 I had the great pleasure of presenting "60 iOS Apps for Lawyers in 60 Minutes" last Saturday at the ABA TECHSHOW 2012 with Josh Barrett (www.tabletlegal.com) and Jeff Richardson (www.iphonejd.com). I had been looking forward to this for many months, since this popular tradition was started about 3 years ago.
I figured the room was going to be packed since I saw an AMAZING number of iPads at the TECHSHOW this year. iPads far, FAR outnumbered laptops this year. It was quite the game-changer to look over a room at TECHSHOW and see nothing but iPads everywhere. So I knew that the "60 Apps" session was going to be popular.
Jeff posted his list of apps yesterday and I wanted to mirror the list here, add a little color commentary, and add a few extra apps that didn't make the final cut for the show.
As usual, we couldn't get to all of the apps we wanted to show, so I wanted to add three more to the list:
Craigslist (99¢) – if you can't stand navigating the online craigslist.org website, then try Craigslist for the iPad. I prefer to search the service through the iPad now, and I love the fact that I can easily change the city and area that it searches.
Cymbol ($1.99) – you can type a section symbol (§) on the iPad by tapping and holding the ampersand on the symbol keyboard. Then someone asked if there was a paragraph symbol (pilcrow ¶) and I couldn't find one! Thankfully, I was able to find the Cymbol app that not only gives me a paragraph symbol, but also daggers (†) and double-daggers (‡) along with a whole set of subscripts and superscripts. You still have to type what you need in Cymbol and copy & paste to your other app, but hey, it's great to have access to so many symbols on the iPad!
Thanks to everyone who made it to ABA TECHSHOW and our "60 Apps" presentation. I hope to see all of you back next year!