I have become a huge fan of TotalFinder since purchasing it the last time MacUpdate Promo had it on sale for $9 back in December. It was one of my "Mac Power User" tips when I presented with Ben Stevens & Finis Price at this year's ABA TECHSHOW.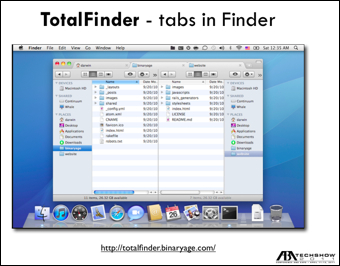 I like TotalFinder because it's simple. It adds features that I think should be in Finder by default.
The best feature for me is "tabs." Do you remember what it was like before we had tabs in web browsers? I had multiple browser windows open all the time.
Before TotalFinder, I had multiple Finder windows open to copy files from one place to another, or to access files in different locations. TotalFinder has completely streamlined my whole workflow with that one feature alone.
Other features I use in TotalFinder are the "cut" button and the fact that I can put "Folders on Top" of my file listing. You can tweak TotelFinder through the icon that it adds in the Finder Preferences.
TotalFinder is regularly $15 which is a deal in itself, but it's a no-brainer for $9. Just visit www.mupromo.com.