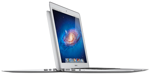 I spoke with Evan Koblentz last night, staff reporter for Law Technology News, about a new report from Forrester Research entitled "People Are Bringing Macs To Work — It's Time To Repeal Prohibition."
The Forrester report addressed business in general, but Evan was looking for some targeted information on how Macs are infiltrating today's law firms.
Even wrote a great overview of the report and gives a brief history of some of the major developments in Mac history.
He also points out what I consider to be the main tectonic shift as to why Macs are starting to appear more in law practices – when Apple shifted to Intel processors, This opened the possibility for many lawyers to use Macs, but still run their Windows-only software in a virtual environment with the use of VMware Fusion or Parallels.
Link: "People Are Bringing Macs To Work – It's Time To Repeal Prohibition"