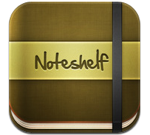 Noteshelf is my favorite hand-writing, note-taking app on the iPad. I'm very aware of Notes Plus, Penultimate, UPAD and many others, but I've found Noteshelf to most closely mirror the experience of writing with pen on paper.
First, I like the bookshelf for organizing my notes. And the last update provided the ability to folder notebooks together which is invaluable. You also have several templates to choose from such as legal pad, wide ruled paper or plain white.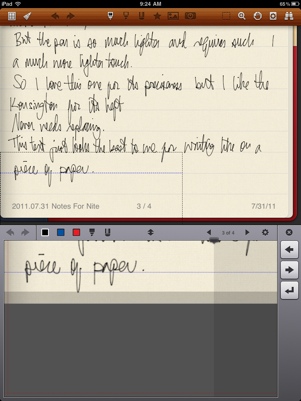 My typical setup for writing is to use the Zoom Mode because writing on the main part is just too small. I also turn on the wrist protection feature so that I don't make any marks when I rest the palm of my hand to write.
I start writing in the Zoom Mode box and when I hit the shaded Autoscroll area on the right, the box automatically jumps to the next area for more writing. It may sound a little complicated, but it works great on the iPad.
I also like the Export options offered in Noteshelf. Up until a few months ago, it was the only note-taking app that allowed me to export directory to Evernote or Dropbox (in addition to e-mail, iTunes, etc.) as either a JPG or PDF. When I take notes on a regular legal pad, I'll bring those notes back to my office and scan them into my computer as a PDF, so Noteshelf basically helps me eliminate several steps there.
I rarely change the color or thickness of the pen that I use in Noteshelf, since I'm happy with just the black pen at a 1 point size. There are times when I'll indicate a section with a heavier red marker. Noteshelf offers all kinds of colors for your taste.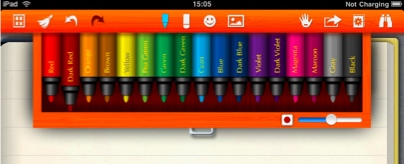 Lastly, you can certainly use your finger to write notes in Noteshelf, but that's silly. I don't use a stylus for much else on the iPad, but it's a must-have accessory for writing notes in Noteshelf.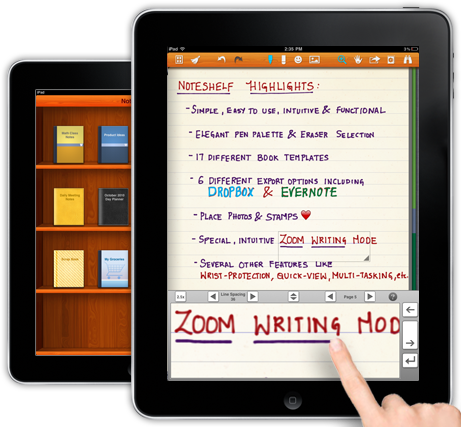 My current favorite stylus is the SGP Kuel H10 because I really like the smaller rubber nub. My old standby is the Boxwave stylus. I'm anxious to try out the Wacom Bamboo Stylus which is supposed to have the same size nub as the SGP Kuel with the heft of a regular pen.
Noteshelf is a bargain at it's regular price of $4.99, but it's a veritable no-brainer at it's sale price of only 99¢. I don't know how long it'll be on sale, but it's absolutely worth picking up this weekend.