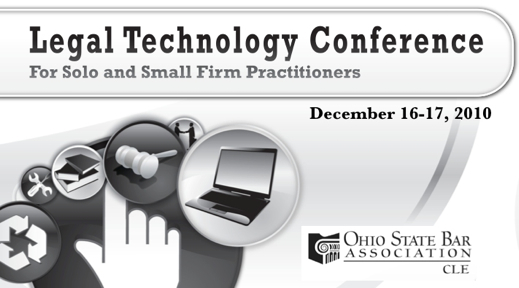 I was thrilled to present the "Mac Track" at the Ohio State Bar Association Legal Technology Conference last week. I've been honored to be invited to speak at the conference for the past five years, but it's only been the last three years where I've been asked to speak on Macs.
Three years ago at the Conference, I did one session on Macs. This year, I did three.
Three years ago, there were about 10-12 folks in the room for that single Mac session. This year, the room was full with about 25 folks, while the iPad session was packed with 40-45.
My first session was "IPractice on an iPad" and there was definitely a lot of interest in the topic. I started off by proclaiming why I think the iPad has a place in the practice of law.
My reason may sound trivial because it's something most folks never consider. But the fact that we can simply rotate the iPad into "portrait" mode to see a full document page is indispensable to all the reading that we do.
So many people tell me that don't like reading documents on a computer screen. I understand it can be bright and awkward, but I think the real, ambiguous reason is because we only see HALF the document on a computer screen. Computer monitors are wider than they are tall which is great for watching videos or juggling multiple application windows. But when we read a document on a 8 1/2″ x 11″ physical piece of paper, we see the entire document. The iPad gets us very close to that experience at a digital level.
There were lots of great questions at the end of the iPad session, and I've learned that any time I give a talk on iPhones or iPads, I have to leave time at the end so that the audience can share their favorite apps. Everybody has a favorite app they want to share and I always learn about one or two new ones!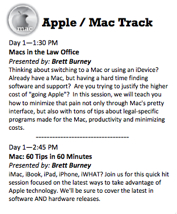 The two Mac sessions had a smaller, but more focused crowd. In the first session, I provided some tips for recent "switchers" as well as the long-time Mac users. In the second session, I provide a boatload of general tips, applications, resources, and tweaks that benefitted all Mac users.
Much thanks to my friends Paul Unger & Barron Henley at Affinity Consulting for the invitation to speak again, as well as the excellent staff members of the OSBA CLE department. I thoroughly enjoy speaking at this conference every year, and I'm grateful that they've allowed me to speak more and more on Macs. I was told that attendees keep requesting more sessions on the Mac, so they keep adding more Mac content.
There's a lesson to learn there – make sure that you petition your local or state bar for more Mac education. I'm happy to come and present to any group that's ready to learn more about using iPhones, iPads, and Macs in their law practice!
Here's a shot that the Affinity folks put up from my cloud presentation on Twitpic.