For the past two years, I've had the privilege of overseeing the "Mac Track" at the ABA TECHSHOW. Four years ago, Reid Trautz convinced the TECHSHOW Planning Board to incorporate Macs into the curriculum.
Now, four years later, we've more than doubled the number of Mac speakers, and we saw record attendance at every session throughout the first day of TECHSHOW which was Monday, April 11.
The first session was "Going Beyond Microsoft Word on the Mac" with David Sparks and Victor Medina.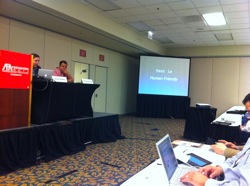 David started the presentation with what he called a "love affair with text". His tongue-in-cheek series of slides made some powerful points as David described the joys of simple text. It's nice to be able to apply fancy formatting to text, but David emphasized the importance of getting thoughts down in text first, and then worry about the formatting later.
Victor spent most of his time providing the audience with an excellent overview of Apple's own Pages, which is part of the iWork suite of software. Victor is a self-professed "Pages junkie" and it showed as he shared his excellent tips with the audience on generating beautiful documents with something other than Microsoft Word.
Victor also talked a little about how he has incorporated the ideas from the Typography for Lawyers book into his practice, which generated a little bit of discussion among the audience.
The next session was How Do You Manage Your Practice on a Mac? with Ben Stevens and Victor Medina. This was a good pair since Ben was able to address how he manages his practice with the cloud-based Rocket Matter service, and Victor described how he uses Daylite from Marketcircle.
Both Ben and Victor use Dropbox, and that generated a few questions on security and confidentiality from the audience. There was also questions on NetDocuments and other document management systems.
The questions on document management were appropriate because the next session was Managing Your Documents on a Mac with Finis Price and Mark Metzger.
Finis demonstrated how he uses some of the built-in tools to manage documents in Mac OS X including Cover Flow and Quick Look. For example, Finis explained how Cover Flow is similar to flipping through pages in a stack of paper. Finis also introduced the audience to a utility named Hazel which he uses to automatically sort and file documents into their appropriate folders.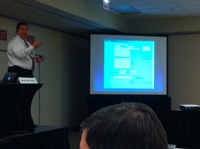 I was very excited to have Mark Metzger as a presenter this year since I had met Mark a few years ago at MILOfest in Orlando. Mark's background includes a stint at a large firm and so I knew he was a perfect candidate for describing how Mac-using lawyers can effectively manage documents.
Mark showed a screenshot of a "document profile" from a major legal document management system and then compared how he utilizes Spotlight comments and OpenMeta tags to organize his documents in conjunction with utilities like Default Folder X and HoudahSpot.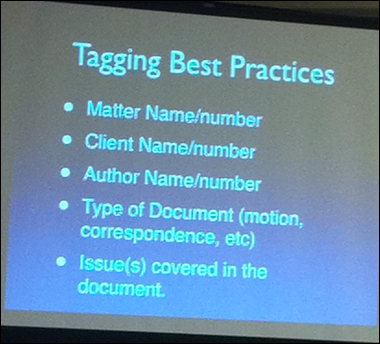 The last session of the Mac Track was the Mac Power Users where I had the thrill of sharing the stage with Ben Stevens and Finis Price.
Ben started us off and got a royal bow from the audience when he mentioned his tip for holding down the option key while expanding the the columns in Finder.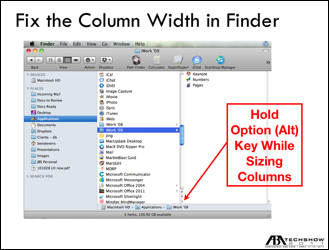 I was up next and I showed everyone how to add tabs to their Finder window with a nifty plug-in called TotalFinder.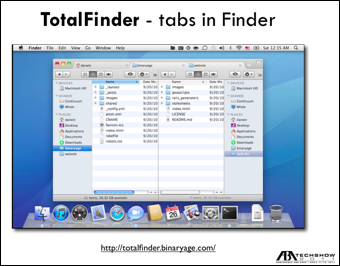 Finis went last and laid down some AppleScript mojo on the group.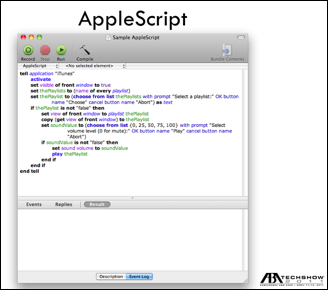 Overall, the Mac Track at the 2011ABA TECHSHOW was absolutely fantastic, and I received a ton of positive comments from attendees. I'm already looking forward to next year!!
Lastly, since this was the 25th Anniversary of the ABA TECHSHOW, we hosted a gala event where speakers were invited to bring their old computer equipment.
For my part, I was proud to bring my still-fully-functional Apple IIGS which was a hit. You can't see them in the picture, but I had both the 3.5″ and 5.25″ floppy drives hooked up to the system on the other side.