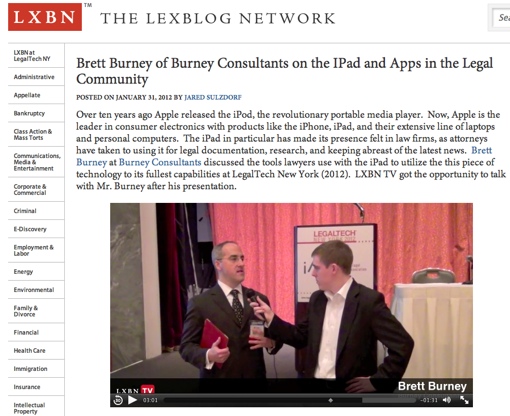 We had a standing-room only crowd for the "iLove for the iPad: Tips, Tricks & Apps" session on Monday at LegalTech NYC 2012.
I had the privilege of speaking with David Neesen, CIO of Greenberg Glusker in Los Angeles. David did an excellent job covering some of the challenges in supporting iPads at a large law firm, and I had the pleasure of sharing some of the best apps available for legal professionals on the iPad.
After the presentation, I was interviewed by Colin O'Keefe for the excellent LXBN TV from the LexBlog Network. Colin and his team have been very busy interviewing folks at LTNY and posting information about the conference.
You can view the full interview on LXBN.