I'm excited to announce three legal iPad presentations coming up over the next few days that each have a little bit of a different focus. If you're close to any of these cities, pick up some "less-boring" CLE credits and come by and say hello!
iPad for Legal Professionals: iPractice on an iPad
June 15, 2012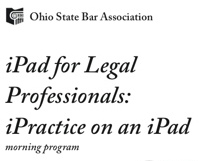 Columbus, OH
This is an updated presentation that Paul Unger and I did at the end of 2011 for the Ohio State Bar Association. This is a three-hour seminar held at the Ohio State Bar Association office in Columbus. Plus each attendees gets a free copy of Tom Mighell's ABA book "iPad in One Hour for Lawyers."
More information here.
Order in the Court: Trial By iPad
June 18, 2012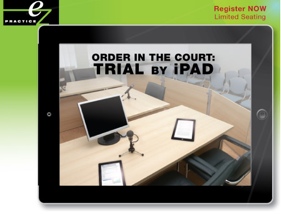 Lansing, MI
I am very excited to participate in the full-day seminar entitled "Order in the Court: Trial By iPad" being hosted by the State Bar of Michigan Practice Management Resource Center. The morning will be presentations and demonstrations from DK Global, the developers of Trial Touch for the iPad. Next, the Hon. David W. McKeague of the U.S. Court of Appeals-Sixth Circuit will provide some "perspectives from the bench" on the use of technology in trial and the courtroom. And lastly, I have the pleasure of presenting on a smattering of iPad-related topics including managing documents, jury tracking, legal research and giving presentations both general & for trial.
Lots of great giveaways in this seminar including copies of Trial Touch, TrialPad, TranscriptPad and ExhibitView!
More information here.

2012 Oklahoma Bar Association Solo and Small Firm Conference
June 21-23, 2012
Durant, OK
I have the honor of speaking at the Oklahoma Bar Association's Solo and Small Firm Conference this year, which is going to be a blast if you watch this fantastic video on the conference website! On Friday, June 22, I'll be giving a session on "Macs in the Law Office," and then on Saturday, June 23, I'll be speaking with Jim Calloway on iOS devices in "iPractice on an iPad." I am really looking forward to this conference as I always walk away from these events with new friends and new information!
More information here.