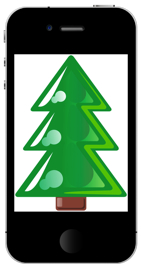 I received quite a number of hits when I posted about iPhone and iPad Apps on sale during Black Friday, so you guys are obviously interested in finding deals on iOS Apps.
Well, you're in luck because there are some mega-sales going on right now in the App Store.
First, 'tis the season and a lot of developers are feelin' the spirit.
Second, there's a "price freeze" that went into effect yesterday (Dec. 23) on the App Store for the holidays, and I presume as Apple gears up for the Mac App Store coming on line in two weeks.
I love finding App deals myself, and since I KNOW there will be a profusion of iPads under the trees this year, I'll be updating this page as I find more sales to share. So keep checking back!
Serious and Business Apps:
Fun Stuff
This is where the hottest pricing action has been happening. EA put a whole slew of their games on sale for a crazy 99¢ and several other game developers followed suit. Here are some of the highlights:
EA Games:
SEGA Games:
Namco Games:
Gameloft Games:
Star Wars Games:
Misc.: