Lawyers always ask me "why can't someone just SHOW ME how to easily and effectively implement technology in my practice?" That's a hard thing to do in an hour-long CLE or webinar.
That's why I'm excited about the 2-day, live, Small Firm Bootcamp I'm involved in on May 18 & 19 down in New Orleans.
Instead of a typical CLE seminar where folks are reading newspapers or trying to secretly knock out some work, the Small Firm Bootcamp offers sessions and WORKSHOPS designed to get you actively participating in learning how to vastly improve the way you run your practice.
"I recommend this seminar to anyone who wants to work smarter…while watching everyone else run around in circles."—Catherine Fairchild
I'm excited about ALL the speakers coming to the Small Firm Bootcamp, but here are a couple of highlights:
Building Your Brand by Mike Kim. Marketing isn't just about passively "letting people know who you are when they need a lawyer." You need to know how to build your "brand" so you're getting the specific message to the specific clients that YOU want to work with. That's what Mike Kim will be covering.
Implementing Systems in your Law Practice with John Fisher. If you've read any of the E-Myth books by Michael Gerber, you'll recall that he talks about creating systems that can be repeated so that you can AUTOMATE those systems and free up your time. Of course the practice of law can't be simplified into a system, and yes you are a unique lawyer and can't be replaced with a system … but the TASKS that you have to manage and oversee everyday CAN be systematized so that you can spend time on the things that you WANT to focus on. John Fisher wrote the book "The Power of a System" and will be sharing his experience at the Small Firm Bootcamp (just look at those Amazon reviews!).
"I learned how to develop systems that will make my practice more efficient and profitable" —Christine Senne, Florida attorney
You should absolutely read through web page describing the Small Firm Bootcamp to learn more about the entire course, what we'll be covering, watch testimonials from other attendees, and get answers to all your questions.
If you attend the live Small Firm Bootcamp, you ALSO get access to the Law Firm Autopilot online course! This course goes into more detail on all the modules, and you get complete access to it. Plus I know Ernie is refreshing all the content in the course and you'll get access to ALL of it!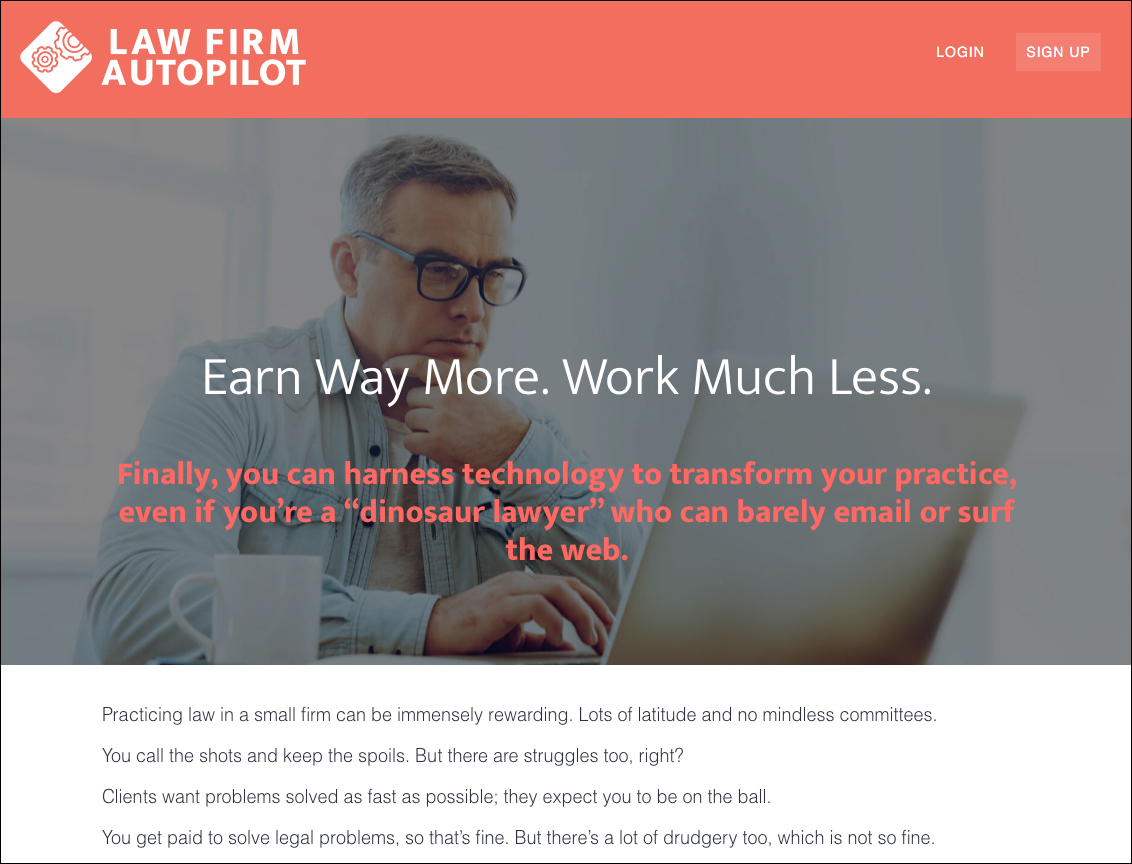 If that's not enough, your entire investment in the Small Firm Bootcamp is COMPLETELY RISK FREE! Unlike others, Ernie is gracious to offer a 100% risk free guarantee – if you have to cancel for any reason, you'll get a full refund. That's amazing.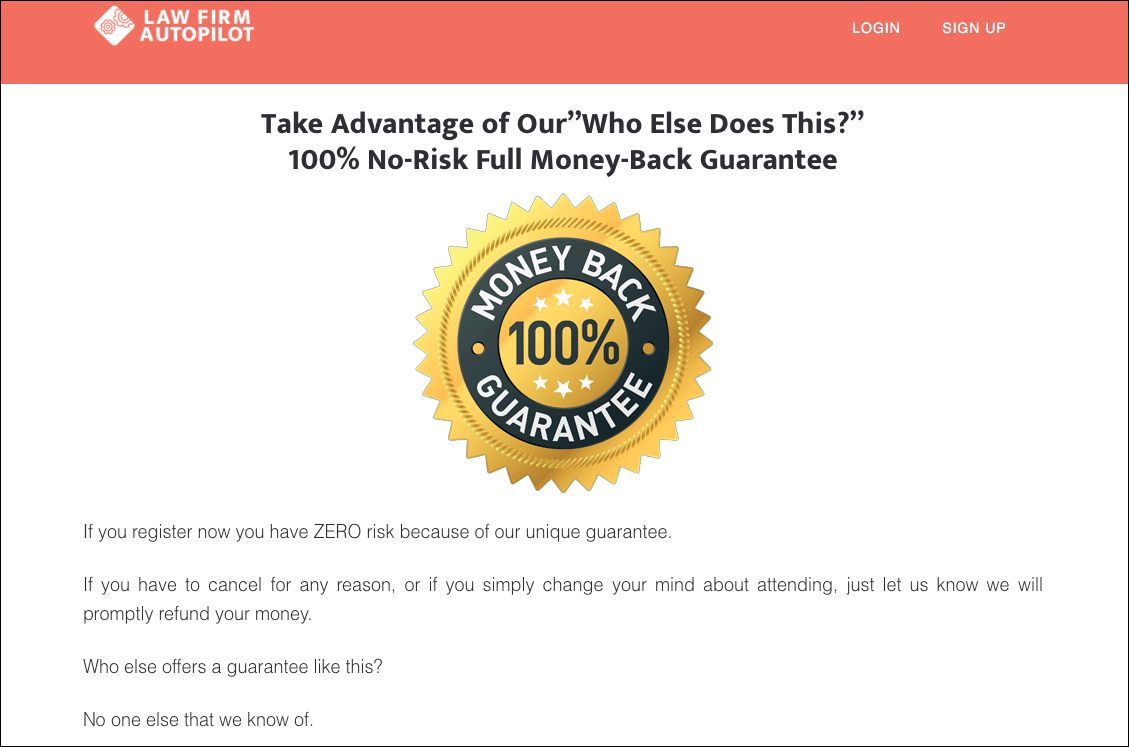 One more thing: you get access to the private Facebook Group where there are amazing discussions happening daily from folks asking and answering questions on how they're automating their law practices. I've been in the Group for the last few days and having a blast interacting with all the members.
Now you're asking, "yeah, but what does it cost?" And I would say turn that question around and ask "what will it cost me if I DON'T attend?" If you choose to miss this, then you'll just keep trudging along in your day-to-day stress, getting overwhelmed with everything you NEED to do but never have TIME to do, never getting the clients you want, and wasting your time on the management and technical problems that you don't like to deal with.
The price of the Small Firm Bootcamp right now is $1,150 but I know Ernie is raising that price soon as we get close to the date. But I am offering you a substantial discount that brings the price UNDER a thousand dollars. All you have to do is send me an e-mail and ask. I can't give this out to everyone, but if you send me a quick message I'll be happy to send you a coupon link to save an amazing amount on this amazing opportunity.
I hope to see you there!
Brett