Do you type?
Do you want to save valuable minutes every day?
If you answered "Yes" to both questions (who wouldn't???) then read on …
It amazes me how many lawyers actually CHOOSE to perform extra, manual, senseless work that the computer can do for them. Valuable minutes are wasted every day typing the same repetitive keystrokes. TextExpander tangibly and practically improves your daily efficiency and your overall practice. (Just ask Neil Tyra of The Law Entrepreneur!)

If you type everyday, and you long to be more efficient, then you can't afford to miss a FREE webinar this Thursday (Feb. 23, 2017) where you will learn EXACTLY how to incorporate the indispensable TextExpander into your practice.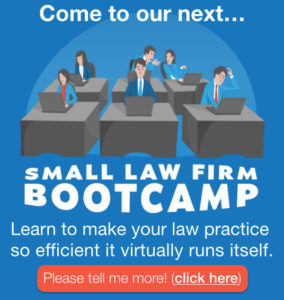 This FREE webinar is hosted by my good friend Ernie Svenson (aka "Ernie the Attorney") who also offers the fantastic Small Firm Bootcamp course. I've been working with Ernie on cooking up a live Small Firm Bootcamp event offering hands-on workshops on items like TextExpander. We'll provide more info on the live Bootcamp soon, but for now just sign up for the FREE webinar "Magic Text Creation for Busy Lawyers" and you'll be on the mailing list to learn more.
I've spoken about the remarkable benefits of TextExpander before in November of 2012. Planet10Tech was gracious to record the presentation but so much has changed and improved in the last 4 years that you need to attend the FREE webinar this Thursday (Feb. 23). I'll show you exactly how to incorporate TextExpander into your practice.
If you're repeatedly typing the same things every day like e-mail addresses, client or judges' names, thank you e-mails, date & time stamps, etc., then you are LITERALLY WASTING TIME!!

We'll start off with simple snippets in TextExpander and then dig a little deeper into constructing complicated documents and designing form fields. And lastly I'll share a gaggle of valuable tips & tricks to ensure you're getting the most out of TextExpander. And like past webinars, we'll keep answering your questions for as long as you're asking them!
Sign up for the FREE webinar "Magic Text Creation for Busy Lawyers" and I'll see you there!