By the third day of MILOfest, everyone had met everyone else and there was a feeling of congeniality held together by a passion for Macs (coverage of Day 1 and Day 2).
Victor Medina kept the ball rolling throughout the whole conference, making sure presenters started on time and we were all in our seats ready to listen.
Responsibly Connected | Larry Port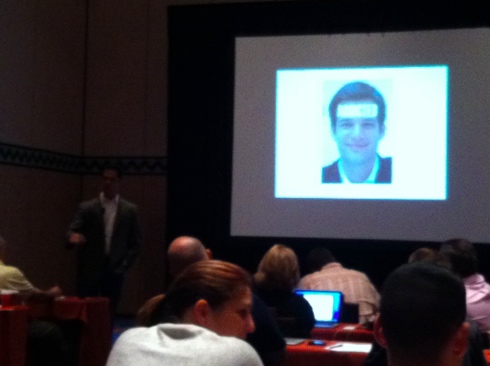 First up on Day 3 was Larry Port of Rocket Matter who established a congenial tone for the third day talking about being responsibly connected.
Larry dared us to be DIS-connected for the entire time of his presentation and just about everyone took Larry's challenge seriously and sat back to listen.
I've known Larry for several years now and I've always appreciated his enthusiasm for topics like this – he's always reading the latest studies and reports on how technology is affecting our lives and society. One of the more recent books he read was Nicholas Carr's The Shallows, which helped to set the context for his talk.
Larry started off by providing some examples of how texting and mobile devices can be dangerous, especially in the context of driving. The problem has become serious enough that the government has even set up www.distraction.gov to help address the problem.
I appreciated that Larry brought up the latest TV commercial for the Microsoft Windows Phone 7. Even though this was a Mac event, I've also appreciated the message that the commercial makes in that texting/surfing/e-mail can really become an obsession these days.
One of Larry's comments was that it used to be "wake up, get out of bed, drag a comb across your head." But today it's "wake up, check your e-mail, check your blogs, before you get out of bed." We all chuckled, but I think it's because we all the truth behind the comment.
Larry is so passionate about the topic that he has set up a blog called Responsibly Connected.
(Tomasz Stasiuk has some additional comments about Larry's presentation on his Planet 10 Tech blog.)
Trial Technology Tactics | Finis Price / Mark Merenda & Victor Medina
Unfortunately, Finis Price was unable to make the conference, but there was a lot of well-wishes going his way.
As a replacement, we were treated to an engaging talk by the tag-team of Mark Merenda & Victor Medina, who provided some excellent tips on marketing and networking.
One of the main takeaways of the session for me was Victor's comment about how the legal profession has moved away from a counseling role, to a little bit of the "making sandwiches" mentality.
Mark picked up on that point by telling a story about shopping for a mattress. Mark just wanted a good mattress, but the salesman told him that the best way to pick a mattress was to lie down on them. Mark was in a full suit, and got frustrated after a laying down on a dozen or so mattresses.
After a while, the sales manager came over and asked Mark if he did a lot of traveling. Mark said yes. The manager asked Mark which hotel had the best beds. Mark said he liked the beds at Hyatt hotels. The manager pointed to a mattress and told Mark he wanted that one. Mark wrote a check and left a happy customer.
OmniOutliner Pro | Mark Metzger
Next up was a fantastic presentation from Mark Metzger on using OmniOutliner Pro.
I admit I haven't dug that deep into Omni products, but Mark has convinced me to start with OmniOutliner (and also thanks to a generous discount from the Omni Group provided to attendees).
Mark demonstrated some amazing magic with OmniOutliner such as editing text, creating beautiful outlines, exporting in a multitude of formats, adding columns, re-ordering information, and generally organizing & manipulating text.
Mark provided some excellent insight into how he uses OmniOutliner to prepare for depositions, and even how he uses the product as a replacement for CaseMap (which is Windows-only).
The Busy Lawyer on BusyCal | Brett Burney
I had the honor and privilege of presenting on one of my favorite applications – BusyCal. I had a blast preparing for the presentation and thoroughly enjoyed the presentation. I know that Victor will be selling videos of the presentations soon, but I may put up an abbreviated version of my presentation here soon.