Using Circus Ponies Notebook & Evernote for File Management | Ben Stevens
The second day of MILOfest started off with THE Mac Lawyer himself, Ben Stevens, providing an excellent overview of how he uses Circus Ponies Notebook, Evernote and Rocket Matter in his practice.
Ben mentioned the importance of establishing a consistent file-naming convention for documents. I appreciated Ben covering this since it is something that I preach religiously to Mac-using lawyers since we don't have a native, legal-specific document management application for Macs (cf. Worldox used in the Windows world). Many Mac-using lawyers simply store their files in a folder structure which is perfectly fine, but having a consistent file-naming convention is absolutely critical for finding documents and staying organized.
Ben mentioned that he used to name document files with the client's last name, first name. But this method neglected to sort files in chronological order so Ben switched to naming files with the date first, then client name (many folks use a naming convention similar to "2010-11-16-Client Name.docx" or something similar so that the files are listed chronologically).
Ben then showed us how he uses Circus Ponies Notebook as a litigation timeline as he gets closer to trial (which was a very nice contrast to how Mark Metzger detailed OmniOutliner on Day 3). Ben mentioned that they store their Notebook files in Dropbox so that the rest of the office has access to the files. But since only one person can have the Notebook file open at one time, Ben said they have mostly switched over to Evernote.
(Tomasz Stasiuk has some additional comments about Ben's presentation on his Planet 10 Tech blog.)
Putting Your Law Practice In The Clouds | Jack Newton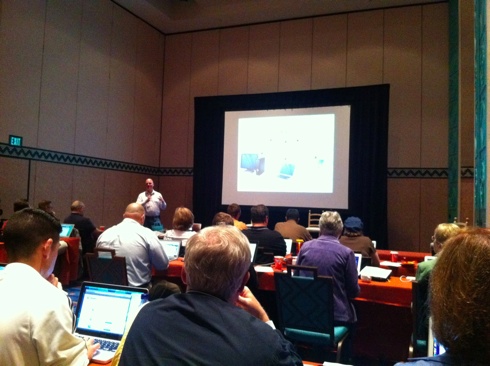 Jack Newton from Clio next presented an excellent "workshop" where he set up a live Google Apps account in front of our very eyes.
But first, Jack teased some of the results of the Apple in Law Firm Survey that Clio had sponsored. More information coming on the results of that survey soon.
Jack explained the entire process of setting up a Google Apps account (the semi-hidden, free account), registering a domain name at GoDaddy.com, and moving around Gmail, Google Calendar and Google Docs.
Jack also discussed how Clio recently joined the Google Apps Marketplace so that customers can now take advantage of the bi-directional synching between their Clio account and Google Apps. This means when you add an appointment in your Google Calendar, it will automatically be added to your Clio account calendar, and vice versa.
(Tomasz Stasiuk has an excellent video interview of Jack on the Planet 10 Tech blog.)
iPad In Trial & In Practice | Ron Elkins
I had been very much looking forward to Ron Elkins' presentation since I am a big fan of his Digital Office Blog. Ron is the Commonwealth Attorney for Wise County, Virginia and has truly revolutionized how his office and related offices have functioned there in that county.
In fact, Ron didn't actually spend a lot of time discussing how he uses the iPad in trial, but instead detailed how he transformed his Commonwealth's Attorney's Office through the use of scanners, Google Apps, Skype, Dropbox and Macs.
One of Ron's biggest challenges was convincing the county government that Macs would be a better investment than PCs. Most of the push-back came from the perception that Macs cost more than PCs. But over the last 2-3 years, Ron states that the cost-savings are palpable and no one is questioning his plans any longer.
The biggest revolution in Ron's office circled around the initiative to go paperless. Ron cites the most significant advantage is that his office has eliminated the "has anybody seen the file" syndrome that would constantly plague daily productivity at his office.
Ron also detailed that going paperless reduced hardware & software costs, reduced paper use & postage costs, increased their office space (because they eliminated many file cabinets), increased efficiency and generally improved productivity and organization.
The cost savings were so significant in going paperless that Ron reported he actually GAVE BACK $31,000 of taxpayer's money to the Commonwealth's Attorney's Office. He also closed over 400 MORE cases over the past year because information was more accessible and efficient.
(Tomasz Stasiuk has an excellent video interview of Ron on the Planet 10 Tech blog.)
Scripting Your Practice For Fun & Profit | Larry Staton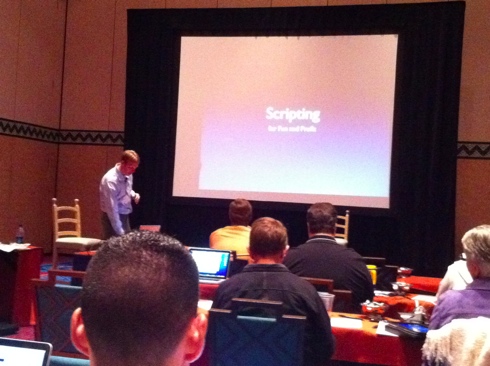 The propeller-head session was presented by Larry Staton, who is a practicing attorney, but now devotes most of his time to software development at Sweetpea Software.
I've been very impressed with Larry's programming skills as I've talked with him a couple of times over the last year, and he certainly wowed the room by detailing the steps involved in setting up a simple Apple Script to create a hierarchy of folders for a new matter.
I believe that Larry's scripts are the closest thing that most Mac-using lawyers can get to having a native version of HotDocs on their Mac. Larry can perform some amazing magic in giving Mac-using lawyers an option for "scripting" documents to prompt for names and other dynamic information that could be used to build a legal document.
Larry sells some very useful pre-packaged scripts on his Sweetpea Software website, but the real power comes in working with Larry on creating custom scripts for your particular needs.
Hiring in the 21st Century | Mark Merenda
I thoroughly enjoyed listening to Mark Merenda last year at MILOfest and enjoyed his talk again this year. Mark has an enjoyable, informal, but serious presentation style that allows him to make some excellent points couched in focused anecdotes. Mark just basically had a conversation with the room, but everyone left inspired and informed. It was definitely a nice way to end the second day of MILOfest.
(Tomasz Stasiuk has an excellent video interview of Mark on the Planet 10 Tech blog.)