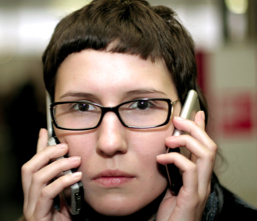 A few months ago I was interviewed by Christy Burke for a story on Legal IT Professionals entitled "Are you an iLawyer yet?"
Christy did an excellent job covering spread of Macs and iOS devices in the legal world, even including some remarks from Jeff Allen of Graves & Allen, one of the "godfathers" of Mac-using lawyers.
Here are a few choice quotes from the article:
Burney says, "I'm seeing more lawyers switch from Windows to Mac for a number of reasons. The 2009 ABA Legal Technology Survey Report reported that 4% of respondents now use the Mac OS up from 3% in 2008. One major catalyst was when Apple switched the Macs from the IBM PowerPC processors to Intel-based processors in 2006. That opened up possibilities for lawyers to continue using legal-specific Windows software applications on their Macs, usually in a virtualized environment."

He also notes that Apple's success in the consumer market and the blurring of boundaries between home and office have contributed to the Mac trend in legal. "Since many lawyers have a Mac, iPhone or iPad for their home or family, they have gotten familiar with Macs in general. Also, since Apple has slowly but steadily increased its support for the business world over the last few years with the iWork software suite, file-sharing capabilities, Exchange support, security and more, lawyers than ever are talking about using a Mac more now."
As a New Yorker, I am required to ask…"So what's the catch?" Macs sound too good to be true – are they? Brett Burney says, "Many lawyers are swooned by ads for Apple and claims of how easy it is to switch to a Mac and that it promises a much better world than Windows. Many times, they're calling me because they had a bad experience with Windows systems or just spent a lot of money on Windows software. Switching to Mac from Windows is not instant magic and will not happen overnight. As fantastic as Mac OS is, it is still a different environment than Windows. The rewards are plentiful and gratifying, but moving to the Mac requires a learning curve and lawyers must be prepared for that." If you love Mac and Apple products feel free to proceed, but be sure to proceed with adequate caution, especially if you are a legal IT person with a large user base where the effects of migration are exponentially greater than for solos.
Read the entire "Are you an iLawyer yet?" article at Legal IT Professionals.