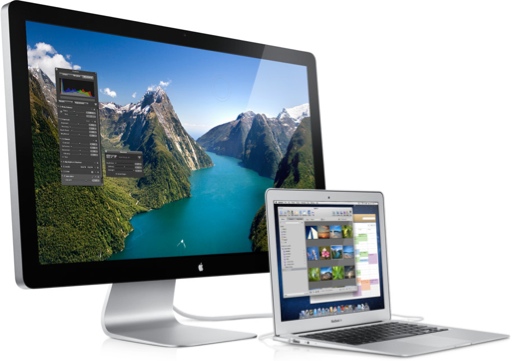 I welcome Jeffrey Schoenberger to Macs in Law for his first guest blog post. I met Jeffrey a few years ago at a state bar presentation, and I've thoroughly enjoyed getting to know him and his passion for Macs. Here, Jeffrey answers a question I get a LOT from lawyers looking for a Mac-compatible docking station.  Jeffrey's bio is at the end of the post. Also, please comment on the post if you found it helpful. And thank you for reading!
Docking stations have a mixed history on the Mac. From 1992 to 1997, Apple manufactured the PowerBook Duo line and a set of accompanying docking stations. The Duo docks functioned the same as modern PC docking stations and port replicators. They added additional connections and eliminated the plug-unplug routine. Once Steve Jobs returned to Apple, the Duo docks were shown the door.
Starting with the Wall Street/Main Street line of PowerBook G3s, Apple-blessed docking solutions vanished. Apple left the market to third parties to fill. One of the most prominent was BookEndz, which created a series of docking stations for PowerBooks and MacBooks. These solutions filled a gap, but did so awkwardly. Apple offered no engineering assistance and its placement of critical ports on both sides of the laptop meant that the user had to carefully align his computer so that each port precisely met its mate on the BookEndz unit. But, so long as Apple neglected the market, third parties would do what they could to fill a real need.

If you visit BookEndz's website today, you'll notice something interesting. Their latest product revision addresses MacBook Pros and Airs released in 2010, prior to the February 2011 unveiling of Thunderbolt, Apple's PCI-e technology co-developed with Intel. There are a few possible reasons for this:
The Pros and Airs released in 2011 are physically identical to those of 2010 and, Thunderbolt being a relatively nascent technology, has not been included yet;
Licensing restrictions or terms prevent its inclusion [1. I find this unlikely, but not impossible. Apple has a substantial interest in the adoption of Thunderbolt, just as they did a decade ago with USB. Promise and LaCie have released Thunderbolt-compatible hard RAIDs and hard drives. However, both come at a hefty price premium to USB2 and FireWire 800. Perhaps Thunderbolt is not economical yet.];  or,
Apple has finally reentered the docking station market with a competitive offering.
Having recently acquired Apple's newest display offering, the 27 inch Thunderbolt Display ($999), I can say that it is the simplest, best docking solution Apple has offered. The display itself is a brilliant 27 inch IPS panel with the ability to angle from −5 to 25 degrees [2. As with previous Apple displays, there is no ability to turn the display horizontally or into a portrait mode.].  Only three cables protrude from the back of the unit. One is for AC power, the second is the Thunderbolt cable that connects to your 2011-era MacBook, Mac Mini, or iMac. The third is a MagSafe cable to power your MacBook. That's it.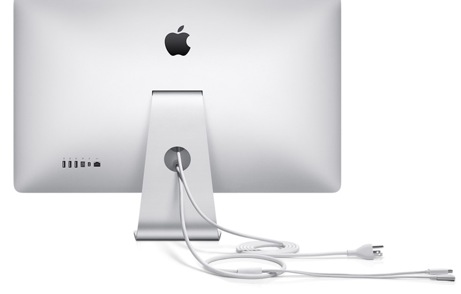 Were I to stop there, you would be right in seeing little difference between the Thunderbolt display and the 27 inch LED Display it supplanted in the Mac lineup. What you have not seen yet is the magic and promise of Thunderbolt. Although it's the same shape as the Mini Display port it replaced, it is far more capable. That single cable carries not only your video signal, but the "logic" to turn the display into a docking station. On the back of the display, you will find three USB 2.0 ports, a FireWire 800 port, a Gigabit Ethernet port, and a Thunderbolt port. On the front of the display are a FaceTime HD camera and 2.1 speakers.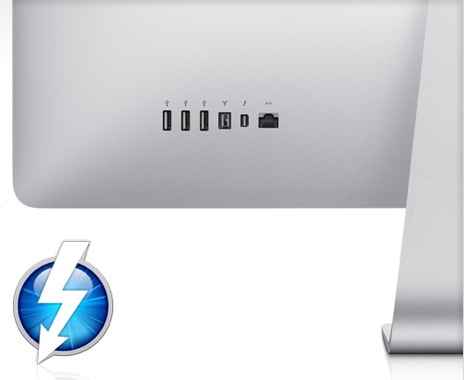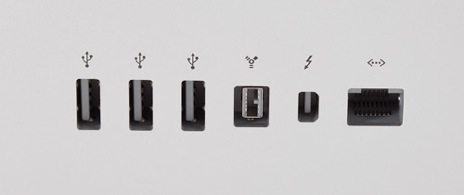 My initial reaction was, "Nice, but so what?" When I went to law school in 2005, I bought a 20 inch Cinema Display to accompany my 12 inch PowerBook. The Cinema Display had USB 2.0 and FireWire 400 on it too. Newer, faster, more ports, but not fundamentally different, right? Wrong. I did not realize the beauty of the Thunderbolt display until I began using it daily with my MacBook Pro. Every time I wanted to use the display, or anything attached to it, I only had to plug in the Thunderbolt cable[3. And the MagSafe cable if I wanted or needed to charge the MacBook].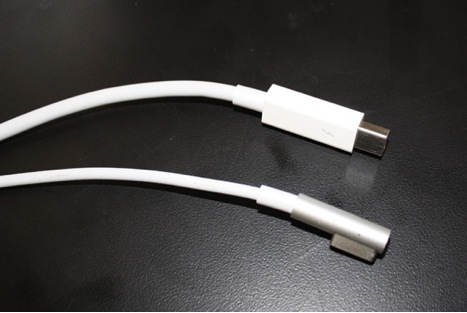 That single cable gives me instant access to any devices plugged in via the USB 2.0, FireWire 800, or Thunderbolt port on the display. Plugging in also gave me a FaceTime HD camera and far more powerful speakers.
The answer to the "so what" question between the BookEndz, Cinema and LED Displays, and the Thunderbolt display is the sheer simplicity of connecting and disconnecting. On the BookEndz, one must carefully align each port; try doing that when you are in a hurry. On the earlier Apple displays, you had one cable per function or port type; my 20" Cinema Display had an AC power cable, a USB2 cable, and a FireWire 400 cable. All had to be plugged in separately to the wall or the PowerBook. And the display had no capability for charging the laptop, meaning, in my case, spending another $70 for a second power adapter to leave next to the display.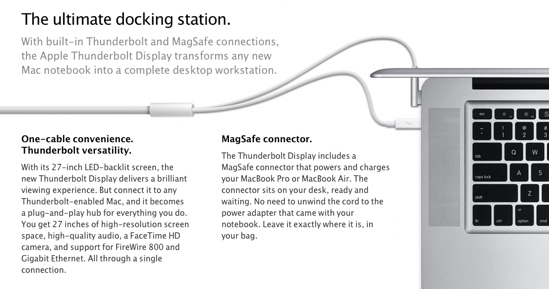 Apple's renaissance has focused on delivering power and functionality in beautiful, simple devices. The Thunderbolt display achieves this. A single cable connects your Mac to all the ports that Apple supports [4. Yes, USB3 and eSATA are still absent.].  For those sporting a MacBook Pro or Mac Mini, we are talking a tremendous bump in screen real estate, much simpler access to your external hard drives and wired mouse or keyboard, plus a vastly quicker "pack up and go" ability [5. Please remember to eject your external drives before disconnecting from the Thunderbolt cable.].  For those of you sporting Airs, your potential benefit is even greater. Do you miss FireWire 800? Does your law firm or business still rely on wired ethernet, and you would rather have gigabit ethernet than occupy one of the Air's two USB ports with a 100 megabit ethernet dongle? How about more powerful speakers to watch YouTube during lunch? The Thunderbolt display addresses these Air limitations with the minimum impact on your mobility.
The Thunderbolt display has a few downsides. First, 27 inches is large. It consumes a lot of desk space. Second, it is expensive. From Amazon, a 27 inch South Korean brands sell for $300-$650. Amazon sells a Dell 27 inch UltraSharp display for $870; $130 less than the Thunderbolt display [6. This was a cursory price check. I compared no features beyond display size and do not vouch for the South Korean or Dell quality.]. A couple of counterpoints on price: First, I know of no non-Apple display that supports FireWire or Ethernet, much less over a single cable along with a host of other features [7. Some NEC displays I have used have USB2 ports and speakers built-in. But, of course, those run through two additional cables to connect to your PC.].  Second, I do not believe that Mac users shop primarily focused on up-front price. If you do, you shouldn't [8. Apart from beauty, functionality, and durability, I will share a personal story here. After getting my Thunderbolt display, I checked Gazelle.com out of curiosity. I had no intention of selling the Cinema Display, which has been repurposed within the family. Gazelle offered $58 for the Cinema display that originally cost $700. In 2006 and 2009 each I purchased a 17 inch NEC display for work purposes. Despite being one to four years newer than the Cinema display, Gazelle offered no money and only to recycle the NEC monitors. All computer hardware is a depreciating asset, but $0 in two years is a tough hit.].
My final two irritations with the display are Apple-specific. The display is a glossy one. Yes, the colors are more vibrant and "pop" better than on matte displays, but for we lawyers who write for a living, I would gladly trade "pop" for not seeing my face or overhead light reflected on the display [9. This is a horrible trend that started with PC laptop makers trying to attract consumer attention in big box stores with vibrant colors. Since then it has worsened.].  The only way to avoid it in the Mac lineup at all is to customize a MacBook Pro with a high-res display. I do not notice the glare often, but I also made a conscious attempt to set the monitor out of direct sunlight. If you buy this display, you should too.
My last criticism is, I hope, something that Macs in Law readers might be able to help me solve, and has more to do with Lion and secondary displays than any defect with the Thunderbolt display. That problem is that any app the user sets in Lion's full screen mode via the two diagonal arrows in the top right window corner, takes over both the Thunderbolt display and the MacBook's secondary display, replacing the secondary display with a black linen desktop image. I cannot find a way to prevent this. For example, I like to watch iTunes TV shows and movies on the MacBook while writing on the Thunderbolt display. I cannot run a video or Lion-enabled full screen app without the app taking over the Thunderbolt display and "blacking out" the MacBook's display. I think this is a "works as designed" moment that makes the end user think, "Why?". I just wanted to point that out in case you had visions of watching your favorite comedies (Community) or secret guilty pleasures (Gossip Girl) full screen on one display while getting real work done on the other.
Aside from those four criticisms, some of which are expected (size and price) and one of which Apple could change with a Lion updater if it chose (full-screen mode), the Thunderbolt display is the Apple fan and Mac-using lawyer's best docking solution out there. It provides tremendous screen real estate, enhances your MacBook's connectivity and convenience, and prepares you for when other Thunderbolt devices become available and affordable. It is available from Apple.com, the Apple Store, and all the usual websites and retailers for $999.
Jeffrey Schoenberger has been using Macs in his personal and professional life since 2005. He passed the bar in 2008 and most recently completed an Equal Justice Works / AmeriCorps legal fellowship with the Legal Aid Society of Southwest Ohio. He can be reached at jeffrey@macsinlaw.com and on Twitter at @jrsch.